Reddit is the largest discussion board in the world, with 330 million monthly users, 30 million of whom are in the U.S. A lot of the conversation on Reddit revolves around the news and can sometimes get contentious as people argue based on their point of view and aren't always receptive of others' views. To help people have more thoughtful conversations, we are delighted to debut The Factual Bot — a new automated news rating and suggestion bot that is live in the Reddit community r/NeutralNews.
NeutralNews is a popular subreddit with 86,000 subscribers, all of whom are interested in getting credible news with minimal bias. Last year we began talking with the moderators of NeutralNews and designed the bot together as part of a larger overhaul of the forum. The bot debuted a few days ago and we are thrilled with the early positive reception:



The bot polls the r/NeutralNews subreddit every 10 minutes and looks for any new articles posted. When it finds one, it rates the article, indicates its political leaning, and provides links to other highly-rated perspectives — from a different point in the political spectrum, an in-depth piece, and a link to every other article on the topic. Here's what it looks like: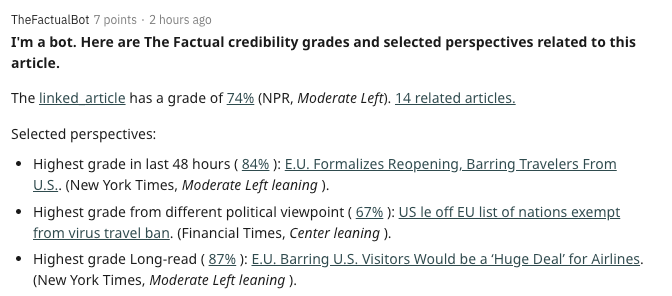 Restore your confidence in the news.
Get the best news in your inbox every morning. Determined by data, not politics.
Thank you!
Please check your email for instructions to ensure that the newsletter arrives in your inbox tomorrow.
Oops! Something went wrong.
This is a trial, so we will improve the bot based on feedback. Indeed, one reason we wanted to test in Reddit first was because users in reputable subreddits tend to be quite intelligent and often take time to give thoughtful feedback. True to form, Reddit users have already dug deep into the details of our rating system and sent in several ideas for improving and expanding.
One user immediately saw the same vision we have on how The Factual can help foster better conversations on other social media platforms:

So expect to see The Factual in more locations — wherever you discuss the news.
If you're interested in checking out the bot, or simply enjoy talking about the news in a thoughtful manner, please join r/NeutralNews and meet others like you.