With the U.S. presidential election less than three weeks away, the need for credible news remains high as voters head to the polls. Given the contentiousness of the competition and questions swirling about what will happen after November 3, having clear, consistent, and reliable information about what's going on now and in the election's aftermath will be essential.
Using quantifiable metrics that minimize human bias, The Factual analyzed the credibility of over 500 news sources from across the political spectrum, enabling us to highlight the news outlets that consistently produce the most credible news articles about the upcoming elections. For this study, we analyzed over 13,000 articles from July through September that focus specifically on the U.S. presidential election, local elections, polls, and voting.
Using the average article credibility scores, we identified the 10 most credible sources for election-related news, split between high- and low-frequency publications. High-frequency publications are useful to readers who depend on day-to-day updates on evolving situations and rapid post-event analysis, like what one would expect from a daily newspaper. Low-frequency outlets tend toward in-depth, magazine-style articles that focus on quality over quantity. Reading multiple sources from both categories will give you comprehensive coverage on the latest newsworthy events. (The Factual's daily newsletter selects across these credible sources and many more to deliver unbiased news on trending topics every day.)
The high-frequency publications on our list published at least 50 articles over the 92-day period and had an average article credibility score of 73.0%. The low-frequency publications, which published 10 or more articles over the time period, perform particularly well in terms of credibility, scoring an average of 77.7%.
How Article Credibility Works

When measuring the credibility of each article, The Factual's algorithm analyzes the author's expertise, the site's publication history, the quality of the cited sources, and the tone of the writing, emerging at the end with a score on a 100-point scale that indicates our confidence that an article is credible. Articles above 75% are regarded as highly likely to be credible. See our How It Works page for more information on our article database and how our measure of article credibility works.
The weeks ahead are sure to deliver divisive political moments, conflicting reporting, and key choices that will help determine the future of the U.S. These sources may be your best bet for making sense of the incessant and fast-moving news cycle.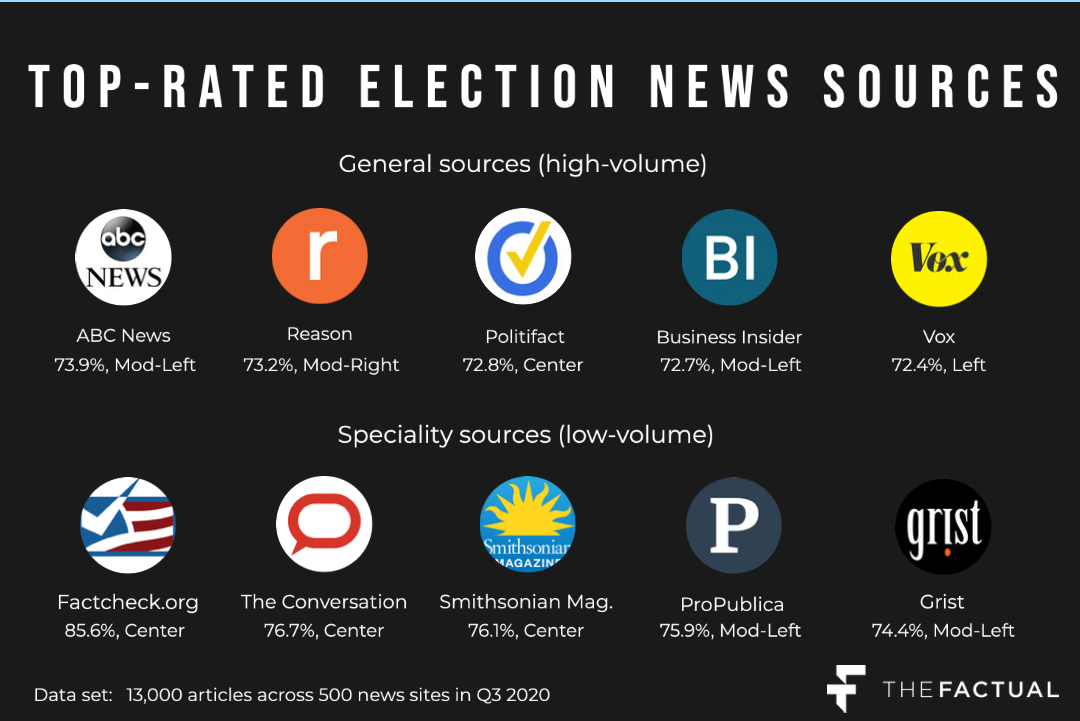 Restore your confidence in the news.
Get the best news in your inbox every morning. Determined by data, not politics.
Thank you!
Please check your email for instructions to ensure that the newsletter arrives in your inbox tomorrow.
Oops! Something went wrong.
Top 5 Sources — High Publication Frequency

The term "infodemic" has emerged recently to capture the flood of news that defines our current era. Each new twist and turn of this election season has been captured by dozens or even hundreds of news articles. For people who like to stay regularly and frequently updated but are unsure of where to turn for the most credible news, these 5 sources publish frequently while scoring highly on The Factual's credibility metric.
Top 5 Sources — Low Publication Frequency

The adage of "quality over quantity" holds some truth when it comes to journalism as well. In this study and past analyses, The Factual finds that smaller, less well-known outlets outscore larger, more popular outlets in terms of credibility. These sites often have niche areas of focus, such as fact-checking, the environment, or technology, tend to have a "Center" political bias, and routinely produce highly credible journalism, even if at a lower publication frequency.
FactCheck.org
Average Grade: 85.6% | Number of Articles: 13 | Political Bias: Center

FactCheck.org has built its reputation as one of the preeminent sources for clarity on the internet and is consistently among the highest scoring sources rated by The Factual. Using a plethora of diverse and high-scoring external sources, authors for FactCheck.org neutrally and reliably counter misinformation, such as on voter fraud

, the

first presidential debate

, and the

USPS

.

Best Article:
Vice Presidential Vacancy Isn't Automatically Filled by House Speaker – By Angelo Fichera
September 14, 2020 | Article Credibility Grade: 98%

The Conversation
Average Grade: 76.7% | Number of Articles: 21 | Political Bias: Center

The Conversation uses a unique approach to covering the news, relying on the expertise of current academics to weigh in on current issues in a concise and accessible format. In the context of the election, this gives common readers access to world-leading expertise on issues like cybersecurity, voter fraud, election violence and intimidation, and government institutions.

Best Article:
The right to vote is not in the Constitution – By Morgan Marietta
August 26, 2020 | Article Credibility Grade: 86%

Smithsonian Magazine
Average Grade: 76.1% | Number of Articles: 14 | Political Bias: Center

As the official publication of the Smithsonian Institution, a trust that runs many famous museums and research centers, Smithsonian Magazine offers varied, often historical analysis on this election season. Among other topics, this has included the history of women's voting rights

and how "

Americans Have Always Loved to Hate the Presidential Debates

," helping us to put this year's contests in perspective.

Best Article:
In 1872, Susan B. Anthony Was Arrested for Voting 'Unlawfully' – By Nora McGreevy
August 18, 2020 | Article Credibility Grade: 92%

ProPublica
Average Grade: 75.9% | Number of Articles: 28 | Political Bias: Moderate Left

Propublica is a non-profit that focuses on "investigative journalism in the public interest" with a strong track record in creating ground-breaking reporting: in 2010, it became the first online news source to win a Pulitzer Prize, a prize it has won four additional times. Beyond individual stories, their series "Electionland

" has produced continuous coverage of the various issues voters are facing when casting their ballots this year.

Best Article:
How to Tell a Political Stunt From a Real Vaccine – Caroline Chen, Isaac Arnsdorf, and Ryan Gabrielson
September 26, 2020 | Article Credibility Grade: 89%

Grist
Average Grade: 74.4% | Number of Articles: 14 | Political Bias: Moderate Left

With climate change breaking into the first presidential debate, a reflection of the issue's growing importance to voters, it's valuable to newsreaders to have a credible source with expertise in environmental issues. Grist focuses on "climate, sustainability, and social justice," with coverage capturing how recent events like California's wildfires and the expansion of offshore drilling interrelate to this election cycle.

Best Article:
We fact-checked Trump's climate responses from the first presidential debate – By Shannon Osaka
September 30, 2020 | Article Credibility Grade: 86%