Does the situation at the U.S.-Mexico border resemble a "crisis" or is the plight of migrants being manipulated for political points? How much does immigration policy differ under Biden when compared to Trump? As with most news topics, there are many questions and many different answers for each. With a topic like immigration, there may be hundreds or thousands of articles every few months, complicating the task of finding credible, well-researched articles to get a clear view of the situation. The media environment, mixed with our busy schedules, cries out for a way to cut out the noise and jump to the very best journalism on any topic.
At The Factual, we've created an AI-powered algorithm that allows for the comparison of news articles on the basis of four quantifiable metrics: the number and diversity of links and direct quotations, the tone of the writing, the topical expertise of the author, and the publishing history of the relevant site. (For a detailed explanation of each metric and the relevant limitations, watch this video or see our How It Works page.) These four metrics combine to produce our Factual Grade, which enables us to compare articles, publishers, and authors in new ways on even terms to produce unique insights.
Now we are using this data to highlight the best of the best for major news topics in 2021. In the case of immigration and debate over a border "crisis," that means using The Factual's algorithm to see who is producing the most credible journalism, reporting, and analysis on the conditions at the U.S.-Mexico border and U.S. immigration at large.
For this analysis, we were particularly interested in which authors, on average, published the best articles during the recent surge of activity. Looking at a dataset of over 5,000 articles about the border and U.S. immigration from 123 major news sites, we zeroed in on the five authors with the highest average Factual Grade over three or more articles from February 1 to April 29. That means to be considered in our analysis, an author must have written on the topic on average at least once per month. Note that in The Factual's ranking system, scoring 80% is quite difficult — just 6% of the 5,168 articles in our dataset did so.
There are obvious limitations in such a study (for example, we analyze 10,000+ articles a day, but we cannot guarantee that we score all articles in the U.S. media ecosystem). However, we do believe our metrics measure key elements of quality journalism.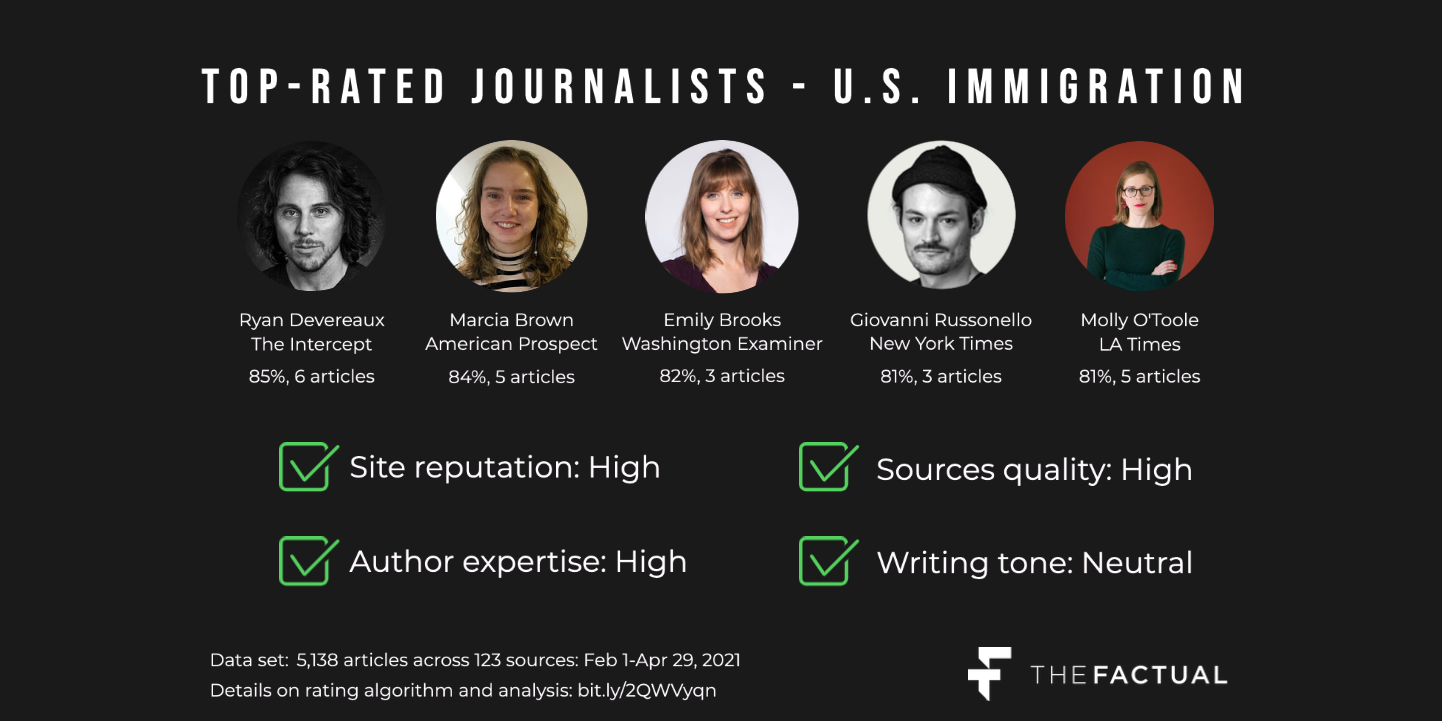 Restore your confidence in the news.
Get the best news in your inbox every morning. Determined by data, not politics.
Thank you!
Please check your email for instructions to ensure that the newsletter arrives in your inbox tomorrow.
Oops! Something went wrong.
The Top 5 Journalists on U.S. Immigration and the U.S.-Mexico Border
Ryan Devereaux — The Intercept
Average Factual Grade: 85% | Number of Articles: 6

Ryan Devereaux is an investigative journalist with The Intercept — a site "dedicated to holding the powerful accountable through fearless, adversarial journalism." Devereaux specializes in immigration enforcement, national security, and criminal justice and has penned a number of articles documenting the treatment of migrants at the hands of U.S. authorities.

Best Article: "The Border Patrol Is Dropping Migrant Families in Arizona Desert Towns With Little Capacity to Receive Them"
Factual Grade: 87%

Marcia Brown

—

American Prospect
Average Factual Grade: 84% | Number of Articles: 5

The American Prospect

is a publication dedicated to discussing progressive perspectives on public policy. As a Writing Fellow, Marcia Brown contributed to that end by covering topics such as how the pandemic has altered prospects for migrants waiting at the border and how Biden-era policies may be "contributing to chaos at the border."

Best Article: "Did CNN Air a Staged Migrant Crossing of the Rio Grande?"
Factual Grade: 88%

Emily Brooks — Washington Examiner
Average Factual Grade: 82% | Number of Articles: 3

Emily Brooks is currently a political reporter with the Washington Examiner but has previous experience as a fact-check reporter with the Daily Caller News Foundation. Her reporting in the last several months has captured Republican perspectives about the situation at the southern border, including whether failure by the administration to label the situation as a crisis presented Republicans with an opportunity.

Best article: "As border crisis emboldens GOP, some pitch 'compassionate' immigration 'dignity' proposal"
Factual Grade: 83%

Giovanni Russonello

—

New York Times
Average Factual Grade: 81% | Number of Articles: 3As a reporter covering electoral politics for the New York Times

, Giovanni Russonello has engaged with how immigration fits into the broader political goals of both Biden in particular and Democrats at large.

Best Article: "What's Driving the Surge at the Southern Border?"
Factual Grade: 83%

Molly O'Toole

—

LA Times
Average Factual Grade: 81% | Number of Articles: 5

Molly O'Toole is a staff reporter focusing on immigration and security with the LA Times and previously has held positions with Foreign Policy, Defense One, and Huffington Post. Her reporting has closely tracked Biden administration actions related to the border, from retention of Title 42 to new pathways to citizenship for asylum-seekers.

Best Article: "Democrats unveil broad immigration reform bill with citizenship path for 11 million
Factual Grade: 84%
---
Check out our companion articles:
"The Best News Sources on U.S. Immigration in 2021"
"The Best News Articles on U.S. Immigration in 2021"

---