Perhaps one of the biggest points of contention in recent weeks has been the debate over whether and how schools should reopen this coming fall. On the surface, political quibbling has made the issue appear as partisan as the debates over lockdowns or reforming the police, with those on the right favoring reopening—and President Trump even threatening to defund schools that refuse to reopen—and advocates on the left arguing for a far more cautious return to school. But below this political contention lies considerable agreement across the political spectrum on several of the key issues.
Above all else, people across the political spectrum agree that returning students to in-person class is desirable wherever and whenever possible due to the immense and potentially long-term costs of foregone, delayed, or inferior education. Moreover, schools provide essential services for families, critically freeing up parents to devote more time to work. While both sides agree that children are less likely to experience strong symptoms, disagreement reigns over the level of risk posed to teachers, parents, and communities. Thus, the real debate is about under which conditions it is really appropriate to open schools.
"It depends on where in the United States you are, what is the status of infections in the region you're in. . . . [I]f you're in an area that has a considerable degree [of cases] with active ongoing infection, you might have to make a tough decision. It may be either delay or do modified schooling." – Dr. Anthony S. Fauci
In an era where partisan politicization appears almost by default, it is essential to examine the facts removed from any associated political narratives. In this case, a picture of at least partial agreement emerges — one of concerned parents, anxious communities, and children in need of education. Below, we explore three critical questions swirling around the debate over reopening schools, supplemented by highly credible articles from across the political spectrum.
What are the costs of keeping schools closed?
How risky is going back to school?
How likely are children to transmit Covid-19?
---
The Factual's algorithm analyzes individual articles for credibility based on the author's topical expertise, the diversity of sources (links and quotes), the neutrality of the writing tone, and the historical reputation of the publishing site. To learn more, see How It Works. At the bottom of this article you can see how we rate the articles used here.
---
Want the most reliable news about Covid-19?
Get the best news in your inbox every morning. Determined by data, not politics.
Thank you!
Please check your email for instructions to ensure that the newsletter arrives in your inbox tomorrow.
Oops! Something went wrong.
1. What Are the Costs of Keeping Schools Closed?
It is readily apparent that the right and left agree about the substantial costs of keeping schools closed. As long as kids are kept out of classrooms, their education will suffer, putting them behind in terms of common metrics for educational attainment. In the long run, that can deter individuals' earning potential, blunt efforts toward higher education, and generally lead to a less productive society. Online learning, while a necessary backstop, is just not an effective replacement and can be undermined by a number of factors, from access to technology to teacher familiarity. The shortcomings are worst for poorer communities and may exacerbate racial, socio-economic, and urban-rural divergences in educational quality.
"The learning gap between rich and poor will likely grow during the pandemic—not just between high- and low-income countries, but also between high- and low-income regions and communities within countries." – Brookings
The costs of shuttered schools also stretch past straightforward educational attainment. Hands-on learning and daily interaction with teachers and peers is critical for picking up social, interpersonal, and emotional skills, the loss of which can have severe impacts, especially among younger children. Schools also provide a wide range of services that can go undercounted, from nutritional contributions through school lunches to healthcare exposure through school nurses to the most important contribution — de facto daycare that enables millions of working parents to pursue a livelihood.
However, this agreement only goes so far. Some on the right suggest that schools that resist opening should lose funding, or that teachers unions are using the pandemic as an excuse to extract huge increases in funding. On the left, there is a tendency to paint the Trump administration's forcefulness as a fraught policy decision, particularly in the context of the high costs of implementing the necessary safety measures. In reality, the overall thrust of both sides is that children should go back to class, but some disagreement emerges regarding when and where it can be safely achieved.
2. How Risky Is Going Back to School?
Much of the problem in finding an answer to the question of whether schools can reopen is that there are no analogous examples from abroad from which we can build assumptions.
Articles on the left, right, and center have been eager to point to the cases or schools reopening in countries such as Norway, Denmark, New Zealand, and Vietnam as evidence that reopening can be done safely without leading to spikes in Covid-19 cases. In part, this success is due to common sense rules that can do much to limit the transmissibility of the virus — such as keeping desks 6 feet apart, using masks, and staggering school attendance — approaches all advocated by the current administration.
"The 'lessons learned' from other nations won't necessarily translate directly to American schools." – Vox
These comparisons, however, are only of limited value since many of the countries have modest rates of infection compared to the U.S., which now has nearly 4 million cases. With such high rates of infection, some, particularly on the left, question whether reopening schools will lead to a surge in cases. A global survey also is not totally reassuring. Israel, for one, saw dangerous outbreaks following a reopening of schools back in May, though some have suggested other reasons for this surge.
The concern, captured by both sides, is that communities with a higher prevalence of the virus that do return to school will actually not follow the positive route seen abroad. Instead, amid much higher case counts, schools may act as a new vector for transmission of the virus, putting teachers, parents, and their associated communities at even greater risk.
"Because children so rarely develop severe symptoms, experts have cautioned that open schools might pose a much greater risk to teachers, family members, and the wider community than to students themselves." – Science
This is what makes the science around the perceived lower transmissibility from and among children so important. In the end, the critical calculus is largely driven by two questions: how susceptible are children to getting the virus, and how likely are children to pass the virus on to others?
3. How Likely Are Children to Transmit Covid-19?
Most people agree that children are less likely to get Covid-19 or exhibit serious symptoms but also that they are by no means immune. Early science points to a lower count of ACE2 receptors as a key potential reason for their resistance. Another reason could be that children may have been relatively isolated in their homes over recent months while parents have been more likely to carry on critical everyday activities outside the home.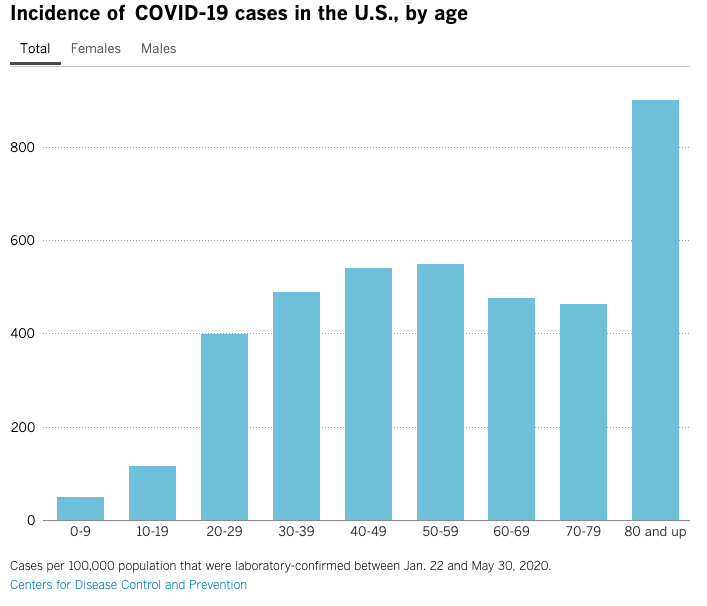 Source: CDC/LA Times
Far less is known and agreed upon regarding children's ability to be vectors for the disease, and this is where the contours of a right-left divide form most strongly. A recent study discussed in the New York Times worryingly found that, while children under the age of 10 are far less likely to spread the disease, "those between the ages of 10 and 19 can spread the virus at least as well as adults do." Critics on the right quickly rebutted saying the data had been misinterpreted and that the report actually "indicates children play no significant role in community transmission."
The intuition on the right seems to be that the potential costs (assumed to be quite low) are far outweighed by the risks of keeping children out of school, though they also acknowledge that it may not be safe for all communities to open up. The left, even if it agrees about the costs of closed schools, is erring on the side of more caution, particularly until more is known about the disease and the inherent risks from school interactions.
"Following a confirmed case of a student who was at school during his or her infectious period, other exposed students and staff should be quarantined for 14 days. The school should revert to distance learning when multiple cohorts have cases or 5 percent of students and staff test positive within a 14-day period. The district should revert to distance learning when 25 percent or more of its schools have been physically closed due to COVID-19 within 14 days. Closure decisions should be made in consultation with local health officers. After 14 days, school districts may return to in-person instruction with the approval of the local public health officer." – Office of Gavin Newsom
This disagreement helps explain support for localized discretion for opening schools, since the real risk is a function of how prevalent the disease is in a community, not simply whether children themselves are susceptible. In California, for example, specific communities may not be able to reopen their schools unless their Covid-19 case rate is below 100 per 100,000 people. Improvements in testing are enabling us to better understand and track case counts across the country, helping to inform such local decisions.
Want to spend less time searching for the best news stories?
Get the best news in your inbox every morning. Determined by data, not politics.
Thank you!
Please check your email for instructions to ensure that the newsletter arrives in your inbox tomorrow.
Oops! Something went wrong.
Close to a Consensus?
The American Academy of Pediatrics has helped capture this challenging issue best. After receiving flak for an earlier statement that encouraged the reopening of schools, the organization clarified their position, saying that "[s]cience should drive decision-making on safely reopening schools" and that "schools in areas with high levels of COVID-19 community spread should not be compelled to reopen against the judgment of local experts."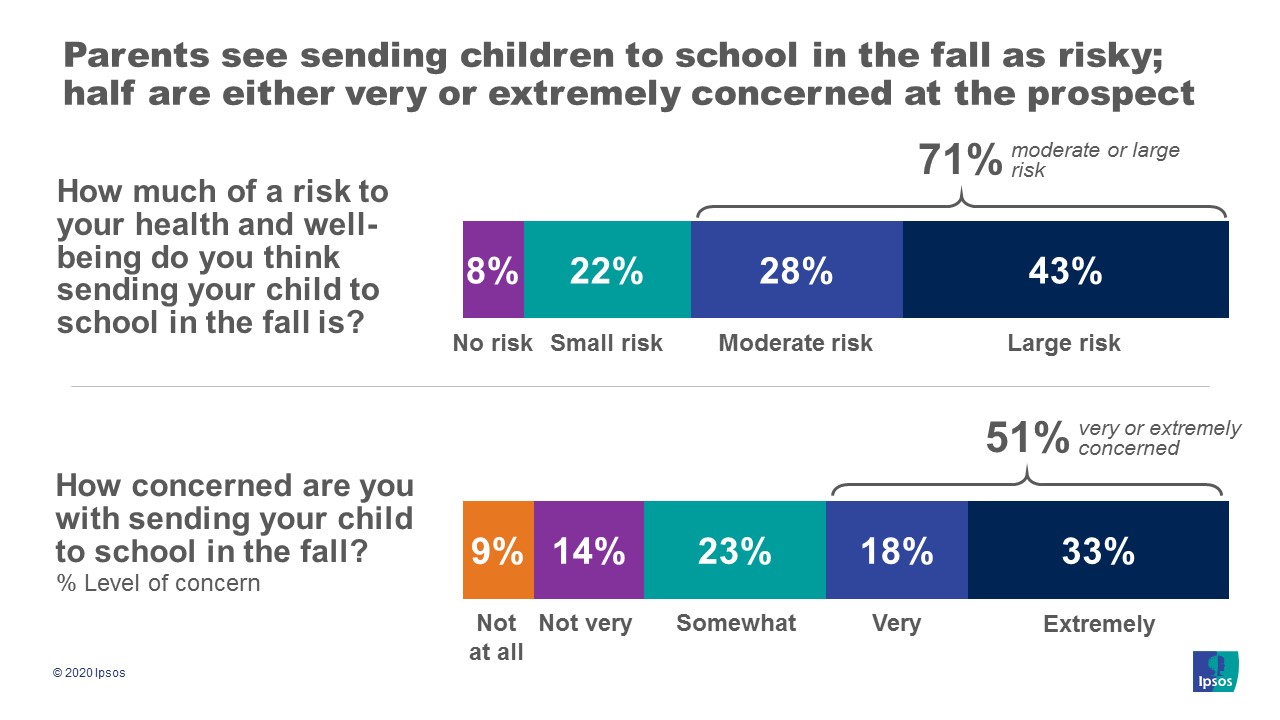 Source: IPSOS
This sentiment encapsulates the attitudes of the American people, at least more so than a binary reopen vs. keep closed debate. Surveys show that 71% of American parents think their children had lower educational attainment this spring, but an identical portion think that there is a large or moderate risk of sending children to school in the fall. Amid such competing forces, parents are increasingly stressed and agree that children should be in school — but only when and where it's safe enough to do so.
As Austin Beutner, superintendent of the Los Angeles Unified School District, is quoted in The Atlantic, "[t]here's a consensus even across political divides: The best place for students to learn is in school," but in places with high community spread "it's not practical, it's not safe, and it's not appropriate."
---
Appendix
The articles below helped inform this analysis. For more on how The Factual grades credibility, see our How It Works page.
| | | | | |
| --- | --- | --- | --- | --- |
| Title | Author | Publisher | Political Bias** | Credibility Grade |
| Will children spread COVID-19 if they go back to school? | Karen Kaplan | LA Times | Moderate Left | 89% |
| White House continues push to reopen schools despite resistance | Cassidy Morrison | Washington Examiner | Moderate Right | 89% |
| Citing Educational Risks, Scientific Panel Urges That Schools Reopen | Apoorva Mandavilli | New York Times | Moderate Left | 88% |
| Should schools reopen amid the pandemic? | Yasemin Saplakoglu | Live Science | Center | 88% |
| What We Know About Kids and the Coronavirus | Erica Schwiegershausen | The Cut | Moderate Left | 87% |
| School openings across globe suggest ways to keep coronavirus at bay, despite outbreaks | Jennifer Couzin-Frankel, Gretchen Vogel, and Meagan Weiland | Science Magazine | Center | 87% |
| Reopening the World: Reopening schools—Insights from Denmark and Finland | Emiliana Vegas | Brookings | Moderate Left | 87% |
| How other countries reopened schools during the pandemic – and what the US can learn from them | Bob Spires | The Conversation | Center | 86% |
| 'I am definitely panicking': Parents say school reopening plans leave them without any good options | Megan Leonhardt | CNBC | Moderate Left | 83% |
| The Case for Reopening Schools | David Zweig | Wired Magazine | Moderate Left | 83% |
| More Mudslinging in the Debate Over School Reopening | Elizabeth Nolan Brown | Reason | Moderate Right | 83% |
| School reopenings: what can the US learn from other countries' experiences? | Peter Beaumont | The Guardian | Moderate Left | 82% |
| The key lesson from school openings abroad: Contain the virus | Alex Ward | Vox | Left | 82% |
| Reopen the Schools! | Robby Soave | Reason | Moderate Right | 82% |
| Older Children Spread the Coronavirus Just as Much as Adults, Large Study Finds | Apoorva Mandavilli | New York Times | Moderate Left | 81% |
| As School Moves Online, Many Students Stay Logged Out | Dana Goldstein, Adam Popescu and Nikole Hannah-Jones | New York Times | Moderate Left | 81% |
| Pediatricians, experts say Alabama should open schools, but lack consensus on what's safe | Sarah Whites-Koditschek | AL | Moderate Right | 81% |
| CDC delays new school-reopening guidance prompted by flak from Trump | Beth Mole | Ars Technica | Center | 80% |
| Israeli Data Show School Openings Were a Disaster That Wiped Out Lockdown Gains | Noga Tarnopolsky | Daily Beast | Left | 80% |
| Florida's school reopening order causes angst, concerns | Jefferey S. Solochek | Tampa Bay Times | Moderate Left | 79% |
| Texas teachers caught in the middle of political battles over schools reopening | Aliyya Swaby and Stacy Fernández | Texas Tribune | Center | 79% |
| What it could cost to reopen schools with covid-19 safety measures | Valerie Strauss | Washington Post | Moderate Left | 79% |
| Reopening America's K-12 schools: What are the risks? | Delaram J. Taghipour | ABC News | Moderate Left | 79% |
| Trump's campaign to open schools provokes mounting backlash even from GOP | Michael Stratford, Nicole Guadiano, and Juan Perez Jr. | Politico | Moderate Left | 78% |
| Reopen schools for the sake of our children | Nicholas Kerr | Washington Examiner | Moderate Right | 77% |
| 1 in 4 teachers at risk for severe coronavirus infection, report finds | Alexandra Kelley | The Hill | Moderate Left | 76% |
| Don't Force Schools to Reopen, but Don't Force Families To Pay for Closed Schools Either | Corey A. Deangelis | Reason | Moderate Right | 75% |
| Pritzker warns parents to expect a school year unlike any other; admits feeling 'challenged' amid nationwide COVID-19 surge, Illinois uptick | Rick Pearson | Chicago Tribune | Moderate Right | 71% |
| How Trump Closed Down the Schools | David A. Graham | The Atlantic | Moderate Left | 70% |
| More Than 20 Countries Are Reopening Schools. The U.S. Should Take Note. | Lindsey M. Burke | Heritage Foundation | Right | 68% |
| American Academy of Pediatrics breaks with White House over school reopenings | Barnini Chakraborty | Fox News | Right | 66% |
| Trump Should Yank Federal Funds From Every School That Refuses To Open This Fall | Joy Pullman | The Federalist | Right | 66% |
| Going to school on the politics of corona | Chris Stirewalt | Fox News | Right | 65% |
| The Case for Reopening Schools | The Editorial Board | Wall Street Journal | Moderate Right | Not Rated* |
| Reopening Schools Isn't Risk-Free. Neither is Keeping Them Closed. | Frederick M. Hess and Matthew Rice | The Dispatch | Moderate Right | Not Rated* |
| New York Times-Hyped Korean Report Actually Shows Kids Are Not Spreading Coronavirus | Phil Kerpen | The Federalist | Right | Not Rated* |
* The Factual's credibility algorithm is blocked from analyzing certain pages or may be unable to do so for technical reasons.
** Political Bias represents the political leaning of the publishing site as a whole as determined by a survey of neutral sites such as All-Sides and Media Bias Fact Check.