Since launching The Factual's daily newsletter, the number one request from readers has been for a mobile app to get unbiased news on their phones. So I'm delighted to announce that today, The Factual's app is live for both Apple and Android devices!
What Makes The Factual App Different
Credible Content on Important Topics
News apps are first and foremost about the quality and relevance of stories. At The Factual, we use our transparent algorithm to curate the most credible stories on trending topics so that you're not seeing an endless feed of sensationalist news or irrelevant headlines.
Instead, The Factual app is simple: one tab for your daily briefing so you start your day off with the five most important topics. And a second tab for updates on trending topics, should you want to check the latest news.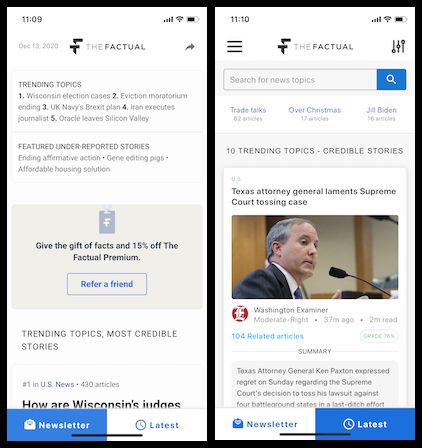 The lead story on each topic has important facts summarized in case you don't have time to read the full article but want to get key insights beyond the headline.
In short, The Factual news app helps you be well-informed as quickly as possible.
Burst Your Bubble
One of the biggest concerns with other news apps is that you might end up in a filter bubble and only see stories that agree with your point of view because you're more likely to engage with that content.
To combat ideological bubbles, The Factual curates credible reporting from across the political spectrum so you can easily see "the other side" of a topic and form your own opinion when presented all the facts. At any time, you can change the "burst your bubble" filters and instantly see stories based on different political leanings of the source.
Instantly Verify News Credibility
Too often these days we hear news via text messages from friends or see some story on our social media feed, and think "wait, is that true?"
With The Factual app, just search by keyword and immediately see the most credible stories on any topic with viewpoints across the political spectrum. Skip the confusion and get straight to the facts.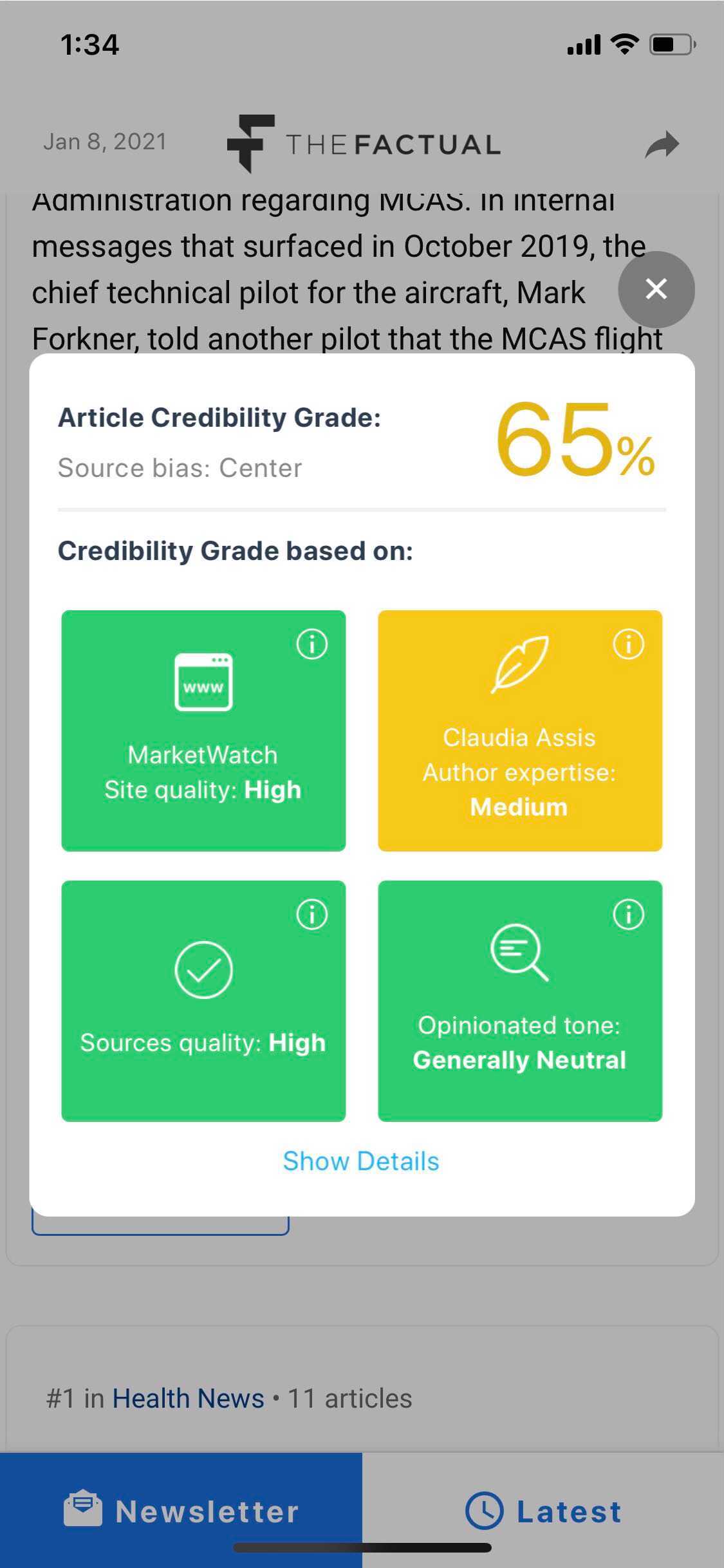 Sharing Credible News
Every one of us is a news source. With The Factual app, you can be a more reliable source of information by sharing credible stories. This helps your friends make informed decision based on facts rather than fear. Your shared story will have a link indicating that it comes from The Factual, so they can check out your sources for themselves.
Ad-free for Minimal Interruptions
Because The Factual app is ad-free, it doesn't seek to constantly interrupt you with notifications to get your attention. Just one notification in the morning at 6am for the daily news briefing – just like you've received through email.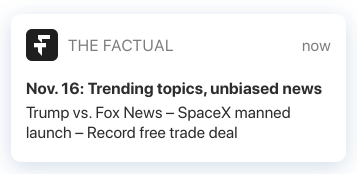 In time we may add notifications for trending topics based on interests you indicate. We'll do so carefully, as we know that notifications can be a distraction and most news isn't urgent.
Membership Has Its Benefits
The Factual app is only for premium subscribers of The Factual. Please be sure to login with the same email address you used to sign up for The Factual.
We'd love to hear how this app impacts your news experience — and we'd be grateful if you could leave a review in the app store.